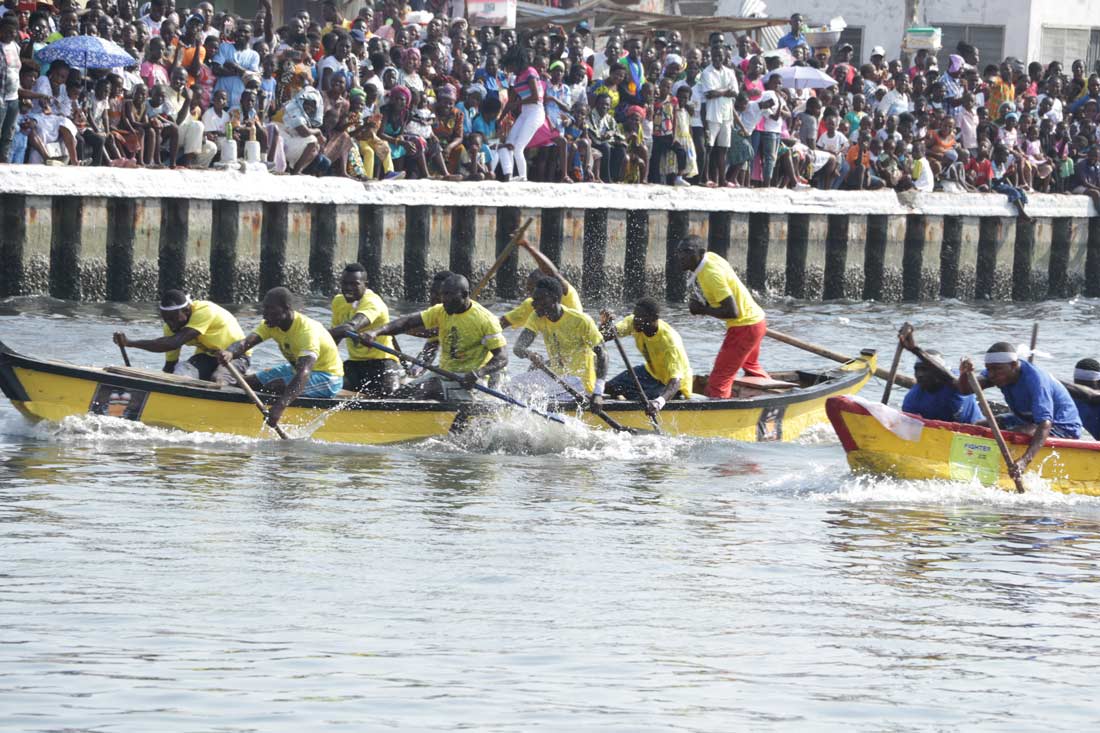 Edina Bakatue Regatta
On this day there is a spectacular ride on the lagoon by women resplendent in "kente" cloth and local festive headgears (Tekua). There is also a regatta on the lagoon, this competition brings to bare the prowess of the men in their fishing trade as they exhibit brute strength combined with dexterous skill in paddling and maneuvering in the water to win the race cheered by onlookers as virtually the entire Edinaman descends on the banks of the Benya lagoon to witness this beautiful event which happens once a year.
A royal procession made up of gorgeously dressed chiefs and stool holders, some of them riding in beautifully decorated palanquin. Fetish Priests and Priestesses, Herbalist, Supis, Asafohenfo and concerned citizens start from Akotobinsin at 12:00noon. The Paramount Chief of the traditional area appears last in the procession dressed in white cloth with "Nyinya Necklace", He wears a straw hat (Birifikyew) and hold his sceptre all of which are symbolic of his high place and command. The attire sets him apart from all the other chiefs who wear gold ornaments.
He rides in his flamboyant palanquin under the beautiful double tier umbrella signifying his authority over all others. The royal procession passes through the principal streets of Elmina and stops for a brief period of time at the sacred shrine where final purification ceremonies are performed. The solemn procession resumes with one of the courtiers carrying wooden tray believed to contain, among other things all the ills and curses of the state. On reaching the river's embankment, the chief linguists' pours libation, the sacred food is offered and the ills and curses buried in the river. Thrice the Omanhen's net is cast and thrice a gun booms announcing lifting of ban on fishing, drumming, funerals, etc. The exchange of yarn and fish between Eguafo and Edina respectively at this material time is a pointer of the historical close-knit unity of the two traditional areas.
The festival, with all its traditional pomp, grandeur,' pageantry and unsurpassable natural gaiety and spontaneous jubilation end with a royal procession ending at the Omanhen's Palace amidst instrumental and traditional drumming.
The mystic significance of Bakatue Festival is, first and foremost, to bring all sons and daughters of Edinaman together in a very unique way. It is a historical festival which portrays our unsurpassable rich cultural heritage; that which spiritually inspires us and makes us proud as a people of with a common ancestral descent. It is a festival, which has for us a sacred up liftment of hearts. As an agricultural area, the celebration invokes fertility abundance of food and fish as it invokes good health, happy marriages and worthy children: Politically it calls for peace and unity for the inhabitants of Elmina town and peaceful co-existence between Elmina Township and its satellite traditional allegiance settlements.